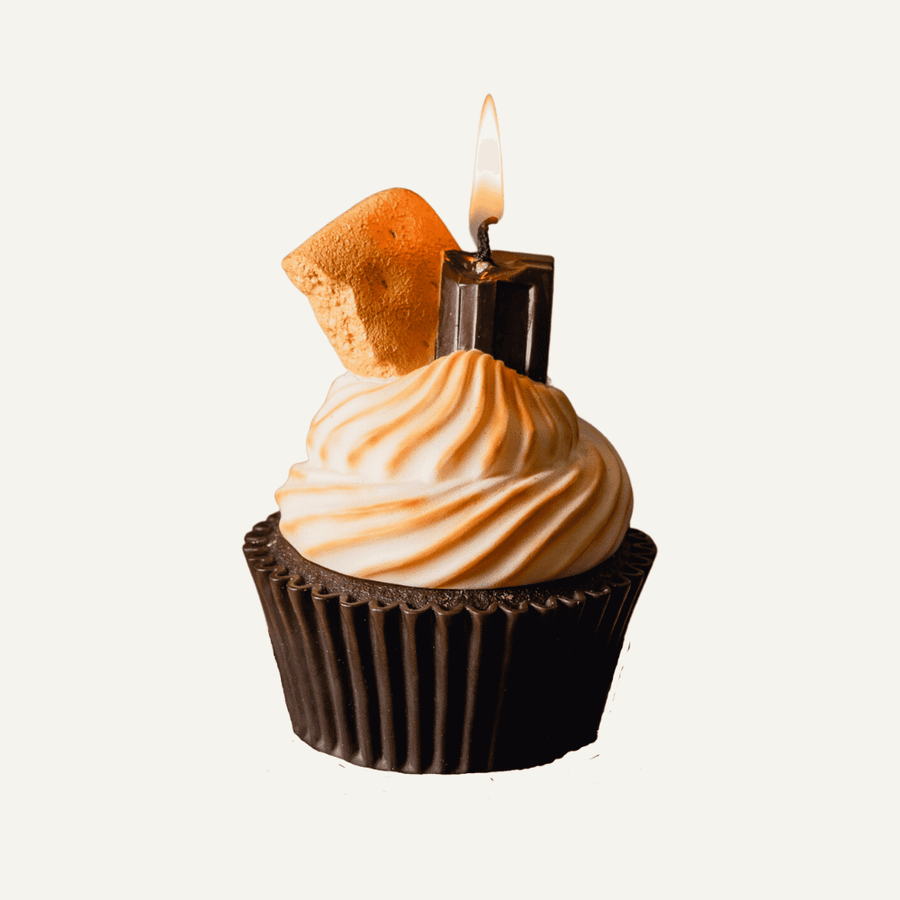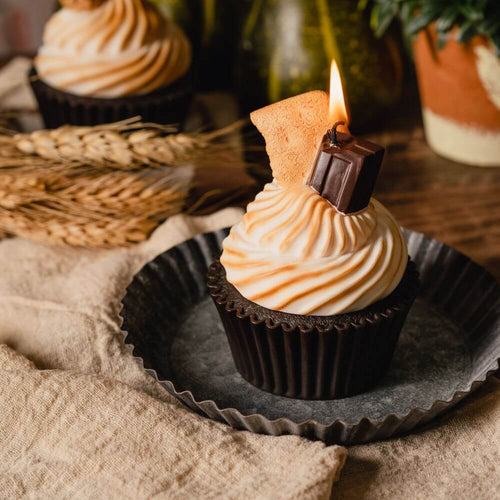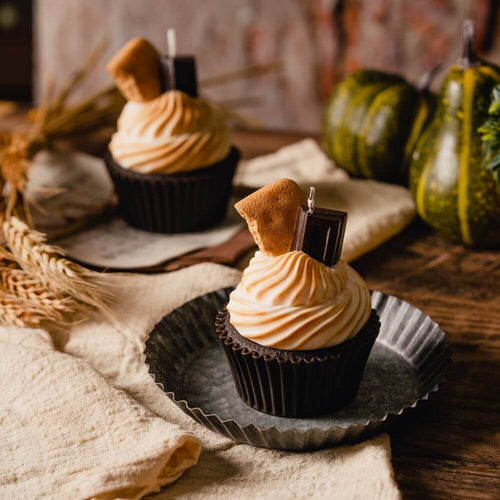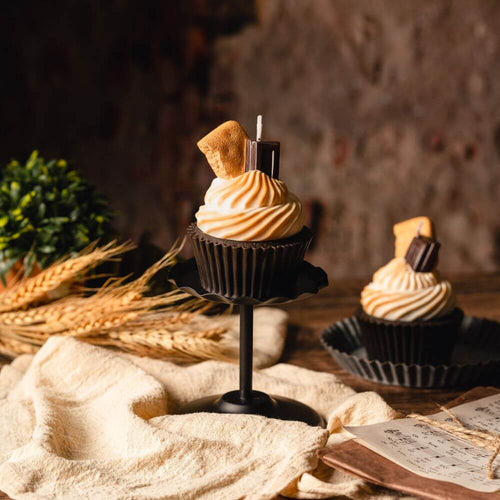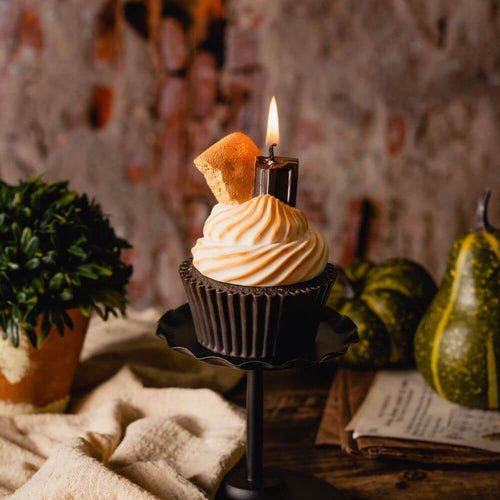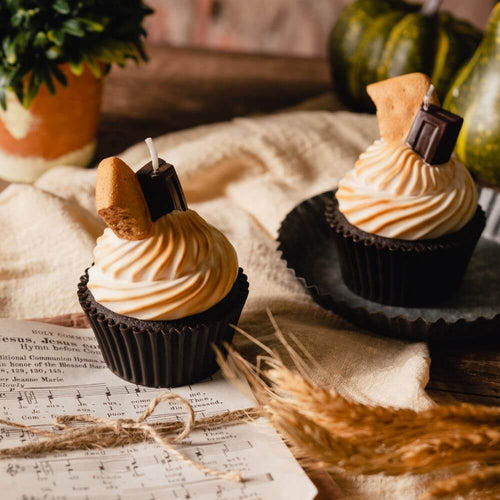 Beautifully packaged gift box
Share
Is there anything better than an evening in nature by the bonfire with s'mores? Relive the childhood classic—this time with a touch of cupcake sophistication! Featuring realistic graham crackers and chocolate nestled on a marshmallow cream puff, its sweet aroma is sure to bring back fond memories.
Our candles are all made with natural ingredients. They're cruelty-free, non-toxic, and contain no lead, plastics, paraben, phthalates or synthetic dyes. With our own in-house design and production studio, we're able to inspect each candle from initial ingredients to finished product—ensuring the product you receive isgreat-looking,great-smelling, andlong-lasting
Since day one, every candle we've made has been hand-poured, hand-crafted, and hand-painted—and we have no plans to change that.
~ cruelty-free, We blend soy wax, beeswax, and palm wax in our candles, along with lead-free cotton wicks and a high-quality mix of phthalate-free fragrance and essential oils. In other words, we don't skimp on ingredients.
~ Custom blend Blend soy wax, beeswax and carnauba wax for clean burning (meaning it doesn't create harmful, black soot like paraffin candles do) and is 100% biodegradable, free from toxins, made from vegetables and a renewable source
~ cotton wicks are lead-free and woodwicks are FSC certified approved
~ delivered with biodegradable packing peanuts, & recyclable packaging 
on first burn, let wax reach a full melt pool to avoid tunneling. (around 2 hours) with every consecutive burn, keep wick trimmed to about 1/8 - 3/16" inch. do this by pinching off the curled bits of the black, not the entire black portion! it is natural for the flame to dip in and out on different burns, so long as it does not fully go out. for best results, use a long lighter (hold it to the wick for about 5 seconds) to properly fuel the flame. remember, patience is key here! wood wicks take time to maintain as they are essentially mini fireplaces.
candle safety: to avoid fire hazard, never leave a burning candle unattended and always light on a heat proof surface. keep out of reach of flammable objects, pets, children, or anything that may catch on fire. do not burn the candle for more than 4 hours at a time. stop use when only 1/2" of wax remains.
Local shipping within 7-10 days on Canada
Returns within 30 days receive a full refund.
Southlake Gifts Canada S'more Cupcake Candle

Introducing our S'more Cupcake Candle from Southlake Gifts Canada - a delightful blend of nostalgia and cupcake sophistication, perfect for those who cherish the joy of bonfires and s'mores. Our candle gift sets and candle gift baskets, including the S'more Cupcake Candle, are carefully crafted to embody the sweetest moments and evoke feelings of joy and love. With its warm French Vanilla fragrance, this dreamy and irresistibly cute candle will light up the hearts of anyone lucky enough to receive it.
We take pride in our commitment to quality and your well-being. Our S'more Cupcake Candles are made from a blend of vegetable wax and beeswax, ensuring a petroleum-free and cruelty-free product. We prioritize your safety and peace of mind by ensuring that our candles are phthalate-free.
Each S'more Cupcake Candle is poured and painted by hand, adding a personal touch to every piece. No two candles are exactly alike, making each one a unique work of art.
As you light up this delightful candle, indulge in its sweet fragrance and let your senses be transported to a world of warmth and happiness. Share the joy and nostalgia of s'mores with loved ones or treat yourself to a moment of blissful relaxation. Our candle gift sets and gift baskets are ideal for any occasion, from birthdays to holidays.
Experience the whimsical charm and exquisite craftsmanship of our S'more Cupcake Candle. Order now from Southlake Gifts Canada and gift your cherished person with a truly unforgettable and deliciously scented experience. Explore our wide range of scented candles, including popular brands like Yankee Candle, Voyageur Soap and Candle, and Yummi Candles. Whether you're looking for beeswax candles, scented candles, or floating candles, we have the perfect candle to suit your preferences.