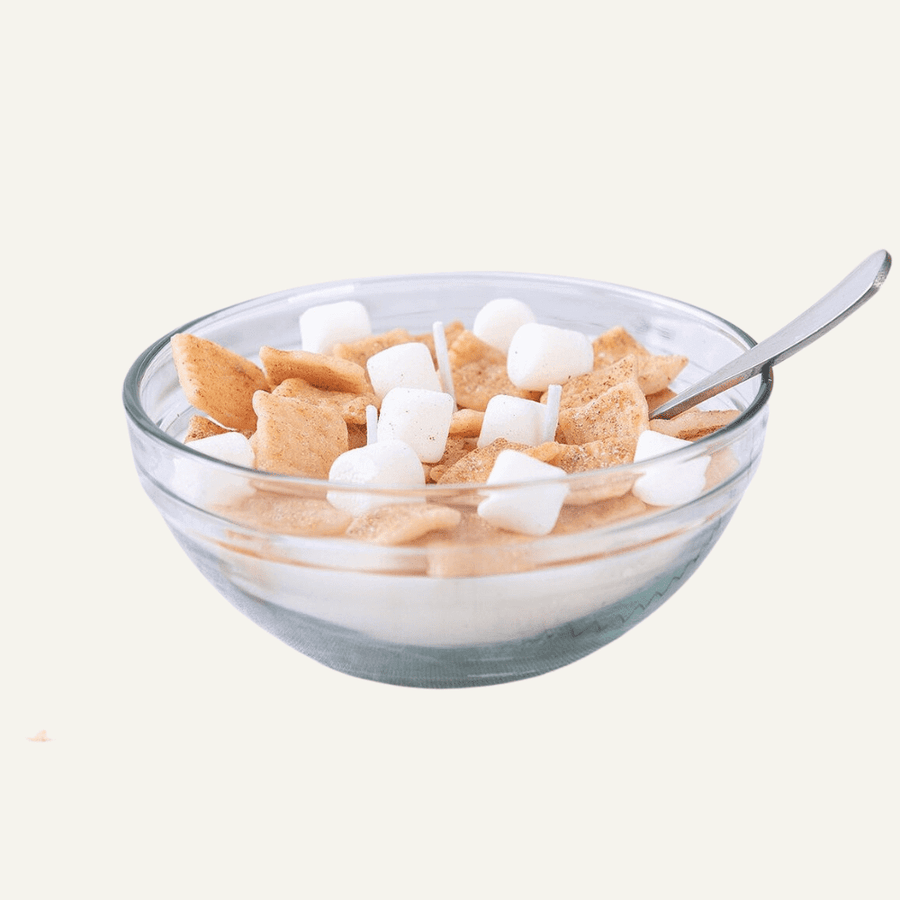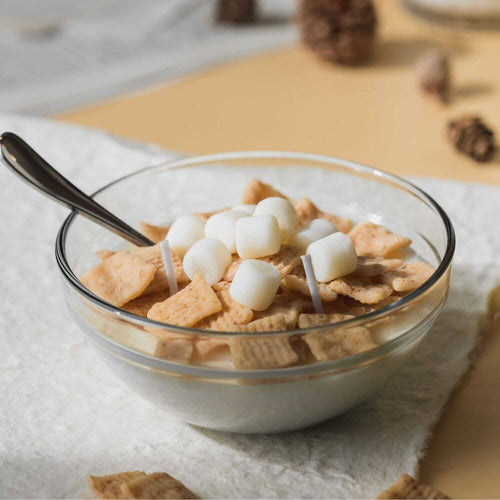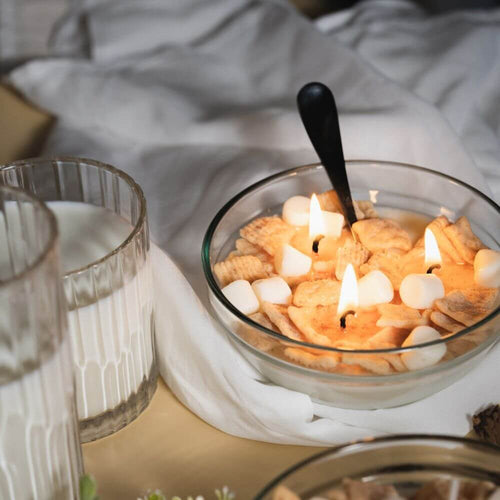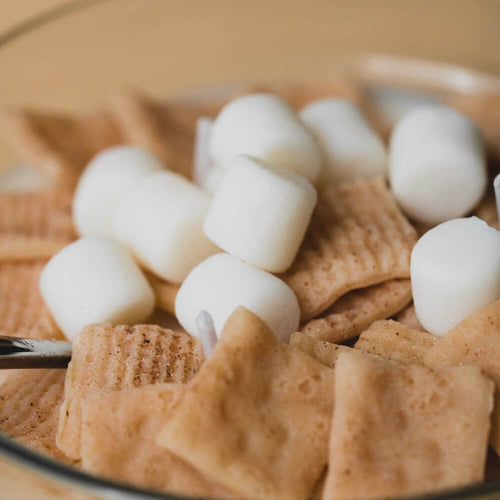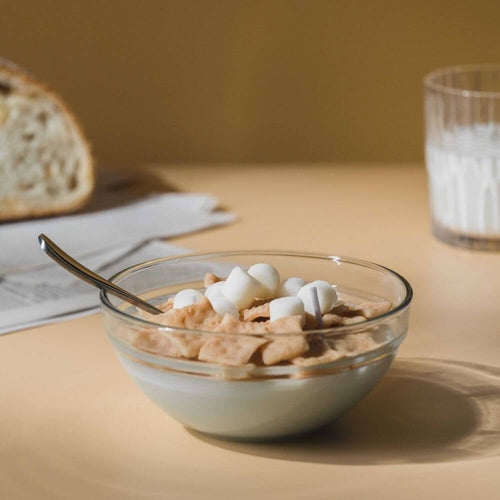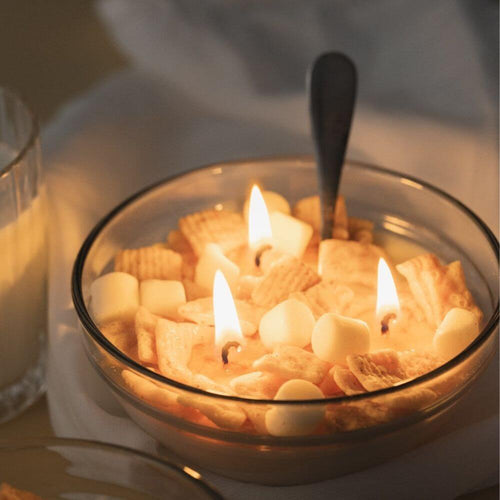 Cinnamon Toast Crunch Marshmallow Cereal Candle

Beautifully packaged gift box
Share
Wake up with the cosy, comforting scent of cinnamon each morning. Designed to look like your favourite bowl of cinnamon toast crunch cereal plus marshmallows, this unique hand-poured candle offers the same delicious aroma without the sugar rush!
Pack of 1 candle
Material: Soy Wax Blend 80% and Beeswax 20%
Size: 5.9 in. X 5.9 in. X 3.5 in. 
Our candles are all made with natural ingredients. They're cruelty-free, non-toxic, and contain no lead, plastics, paraben, phthalates or synthetic dyes. With our own in-house design and production studio, we're able to inspect each candle from initial ingredients to finished product—ensuring the product you receive isgreat-looking,great-smelling, andlong-lasting
Since day one, every candle we've made has been hand-poured, hand-crafted, and hand-painted—and we have no plans to change that.
~ cruelty-free, We blend soy wax, beeswax, and palm wax in our candles, along with lead-free cotton wicks and a high-quality mix of phthalate-free fragrance and essential oils. In other words, we don't skimp on ingredients.
~ Custom blend Blend soy wax, beeswax and carnauba wax for clean burning (meaning it doesn't create harmful, black soot like paraffin candles do) and is 100% biodegradable, free from toxins, made from vegetables and a renewable source
~ cotton wicks are lead-free and woodwicks are FSC certified approved
~ delivered with biodegradable packing peanuts, & recyclable packaging 
on first burn, let wax reach a full melt pool to avoid tunneling. (around 2 hours) with every consecutive burn, keep wick trimmed to about 1/8 - 3/16" inch. do this by pinching off the curled bits of the black, not the entire black portion! it is natural for the flame to dip in and out on different burns, so long as it does not fully go out. for best results, use a long lighter (hold it to the wick for about 5 seconds) to properly fuel the flame. remember, patience is key here! wood wicks take time to maintain as they are essentially mini fireplaces.
candle safety: to avoid fire hazard, never leave a burning candle unattended and always light on a heat proof surface. keep out of reach of flammable objects, pets, children, or anything that may catch on fire. do not burn the candle for more than 4 hours at a time. stop use when only 1/2" of wax remains.
Local shipping within 7-10 days on Canada
Returns within 30 days receive a full refund.
Southlake Gifts Canada Cinnamon Toast Crunch Cereal Candle

Indulge your senses with our Cinnamon Toast Crunch Cereal Candle Candle gift set, candle gift sets, and candle gift basket, featuring scents like the Candle set gift, Candle gift set Canada, and the Village Craft and Candle. These unique gifts cater to anyone who loves the aroma of candles and enjoys the enchanting fragrance of Yankee candle. Whether you prefer scented candles, such as Jo Malone candle, or beeswax candles, our collection has it all.

Imagine unwrapping a candle gift set that brings warmth to your space and represents childhood memories. Inspired by Taylor Swift's favorite cereal, the Cinnamon Toast Crunch Cereal Candle from Southlake Gifts Canada is a thoughtful present that combines nostalgia and relaxation. Featuring the scents of cinnamon, this hand-poured candle resembles your favorite bowl of cinnamon toast crunch cereal, complete with the addition of marshmallows. It offers the delightful aroma of cinnamon and sweetness without the sugar rush.

Don't settle for an ordinary candle holder when our collection includes candle holders, floating candles, and candle warmer lamps that can enhance any display or setting. Whether you need candles near me, or are interested in candle making, our range of products, including candle making kit, Cast of sixteen candles, Candle lake Saskatchewan, and How to make candles, is sure to fulfil your needs.

In conclusion, our candle gift sets and baskets make the perfect choice for any occasion, including birthday candles and advent candles. The captivating fragrances and unique designs of our candles, such as movie 16 candles cast, serendipity candles, and citronella candles, ensure they stand out and will be treasured and enjoyed by anyone who receives them. So why wait? Order one of our candle gift sets today and bring delightful scents and childhood memories transformed into a charming candle to your loved ones' homes.